SportsBetting.ag Sportsbook Review - US Players Welcome

SportsBetting is one of the sleekest, most user-friendly online sports betting sites out there. Between its wide variety of betting opportunities and other features, it is the perfect site for any amateur or pro sports bettor. After opening up shop more than a decade ago, SportsBetting had a fast rise to fame and acclaim. They now boast pages upon pages of positive customer testimony as well as ringing endorsements from major media outlets like ESPN, FOX sports, and CNBC.
The following review will highlight and walk a reader through some of the more exciting features of the sportsbook as well as assure any new user will walk into this legal online sportsbook for US residents with a good foundational knowledge of how the site functions. Think of this as your step-by-step guide to SportsBettting, guiding you all the way through sign up straight through collecting your payouts from successful bets.
SportsBetting Basics
| | |
| --- | --- |
| SportsBetting Website: | SportsBetting.ag |
| SportsBetting Location: | Panama City, Panama |
| Where is SportsBetting Legal? | All US States |
| Currencies Accepted: | USD, Bitcoin, LiteCoin |
| SportsBetting Customer Service: | cs@sportsbetting.ag |
| SportsBetting Telephone: | 1-888-843-9027 |
Facts For U.S. Players About SportsBetting
SportsBetting.ag accepts U.S. players That Live In all 50 States
SportsBetting.ag is A Sister Company Of BetOnline and they share many features
All Players get a 25% bonus on Every deposit up to $1,000!!!!
SportsBetting.ag offers Online poker and an online casino to players from their sportsbook Account
Frequently Asked Questions U.S. Players Have About SportsBetting.ag
Everyone from the newest to the most experienced sports bettor can need a refresher on the basics. These are some of the most popular questions that come up whenever we direct a new user to SportsBetting, regardless of how often they have bet on sports in the past or used other online sportsbooks.
1. Does SportsBetting allow USA players?
All US residents and citizens are welcome to join SportsBetting, and they may all place wagers for real money at any time. This is a real, legitimate business that allows US residents to bet real money on sports.
2. Is betting on sports at SportsBetting legal?
The short answer: yes. Some explanation: there are no federal laws that outlaw the act of merely betting on a sports event. The only time the law comes into pay is when we are talking about the FACILITATION of sports betting anywhere in the United States. Since SportsBetting is based in Antigua, these federal laws do not apply. This comes out to a double whammy of legally betting with a legally functioning and legitimate site.
3. Will I Get In Trouble?
No. There are no Federal Laws that will prevent any US residents from betting on SportsBetting. While it's true that some states do not allow betting, the enforcement is really only relegated to those who would facilitate the betting. There have been no cases of arrests in the United States for otherwise honest citizens who were merely using SportsBetting.
4. How old do I need to be to bet at SportsBetting?
You need to be 18-or-older to create an account on SportsBetting. This is to ensure safe gambling practices. However, many states require residents to bet at least 21 years of age. SportsBetting cannot be held accountable for any underage betting that takes place, and therefore we recommend users research the laws in their state. We do not advise leaving yourself open to legal fines or other penalties by betting underage.
How Players Can Access SportsBetting.ag Sportsbook
Since SportsBetting is frequently at the cutting edge of modern technology, it can be accessed in a variety of ways. Whether you prefer to bet from a laptop, desktop or mobile device, this sports betting site has you covered with an intuitive, fast and easy to read layout.
PC & Apple Browsers and Devices - New players with Apple and Windows machines do not need to worry – SportsBetting is completely compatible. While it should work well with any browser, we recommend going with Mozilla Firefox or Google Chrome.
Mobile Access on SportsBetting.ag - Have you ever wanted to place bets on your phone or tablet? If so, you're in luck! SportsBetting allows its members to access SportsBetting right from their mobile devices. It's easy, quick, and doesn't require you to download anything. The sleek mobile site comes free with every SportsBetting account, turning your front pocket into a live sportsbook, no matter where you go.
Call In Betting For USA Players– Although it's not as popular a method, some bettors simply prefer to talk through their bet with a human being, and SportsBetting is more than happy to accommodate. You may call in their service anytime to verbally confirm whichever bet you would like to place.
SportsBetting.ag Registration - How To Register At SportsBetting.ag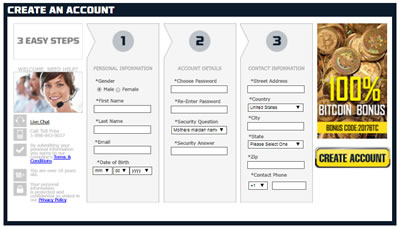 Once you make the decision to place bets using SportsBetting, the process to sign-up couldn't be easier or faster.
On the homepage, it would be hard to miss the "Join" button. If you navigate away from the homepage at any point, there should be a large frame in the top left corner of the screen allowing you to find the registration page at any time.
Once you get there, you only need to fill out some basic personal info, account details, and contact fields. SportsBetting will then ask you to confirm your email address through a lightning quick process, and you will soon be on your way to placing all the bets and wagers you could ever want.
It's important to note that by submitting your info, you agree to the site's policies.
Betting On Different Sports At SportsBetting.ag - Betting Odds For Every Sport
No sportsbook would really be worth checking out at all if they did not offer plenty of betting lines and propositions. Luckily, SportsBetting really excels in this area. They offer game lines not only from every sport imaginable (and even a few you can't imagine. Wagers on pro darts, anyone?) But you can even place wagers on every league for every sport.
Professional or amateur, major league or college, it doesn't matter. It's all there, and it's all up for the betting. What's more, the folks over at SportsBetting refuse to be beaten when it comes to offering up excellent game, team or player props, or even future bets.
Simply put, SportsBetting is a bettor's paradise, where the world opens up at their fingertips.
SportsBetting.ag Betting Odds - Great Betting Odds On Parlays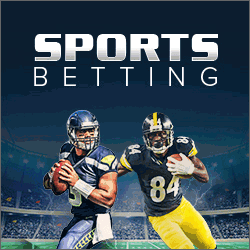 Understanding odds, game lines and wager types is essential for sports bettors. The first thing you should know is that SportsBetting.ag has pretty much all of the odds that you will find at any other online sportsbooks. We will discuss some of the basics below:
SportsBetting.ag Betting Lines
A game or betting line is the easiest way to express odds on sportsbooks. On SportsBetting, these are next to almost any wager you would make.
Let's say an upcoming baseball game between the Cubs and Reds is what you want to bet on. On the sportsbook page (once you click "baseball" and find the matchup, that is) you will see a lot of numbers. The important one is the +/-, or the betting line.
The plus-minus signifies the underdog and favorite, respectively. The Reds in this example have a -130 and the Cubs (the underdogs) are at +150. These odds can be fractionally expressed as 13/10 and 15/10, too.
If you are betting for the Cubs to win, you would only have to bet $100 (or $1) to win $150 (or $1.50). If you bet on the favorites, or the Reds at -130, you would have to bet $130 to win $100 because of the odds.
These odds reflect a bet on the outright winner of a contest. The most popular form of betting in the United States is against the spread, which generally provides close to a one-to-one wager to payout ratio.
When betting against the spread, since the handicap for the underdog is not applied in the odds and payouts, there is usually an adjustment to the final score in order to make bets on both sides equally appealing. For the underdog, a spread will generally be listed like (+7) meaning you would add 7 points to the underdog's final score to see if that helps them win the game.
This works the same way for the favorite, who will be represented by a negative number.
SportsBetting.ag Prop Bets
Prop bets are fun and incredibly easy to do on SportsBetting. Put simply, these are anything other than win-loss and point spread bets. A common prop in football would be betting on which team will score the next touchdown, whether or not a player will make a field goal kick, or if a certain player will run a particular yardage.
The Super Bowl in particular is famous (or notorious?) for having several wacky propositions attached to it. Everything from the color of the Gatorade to who will be shown first in the telecast can be bet on. These are some great examples of props, and even if a sport event is nowhere near as big as the Super Bowl, there should always be at least a couple props open for wagering.
Props are much easier to do online, too, and SportsBetting is always updating its sportsbook with conditional prop bets to help.
Betting Futures At SportsBetting.ag
Futures are interesting bets to make because of how long-term they are. A good example of a future is picking which NFL team (out of a list of every team) will win the next Super Bowl.
These bets are generally made well ahead of time and therefore carry opportunities for much bigger payouts just so long as the bettor shows patience and tremendous foresight. Because of how odds and pari-mutuel wagering works, the numbers will change over time as the event approaches and teams lose in the playoffs. This will drive down the payout for favorites, so it's important to make those bets early and lock yourself in at a high payout!
The same goes for other major sporting events.
Different Wager Types At SportsBetting.ag
SportsBetting is not only a playground when it comes to what you can wager on, but also how you can wager. With this fantastic sports betting site for US players, virtually anything goes. Players may bet against the spread, turn any number of bets into a parlay, round robin, or even teasers. At SportsBetting, the bettor is king and they may structure their bets however they see fit.
By betting within this online sportsbook, you will never have to worry about feeling tied down or restrained by any silly land based casino forced parlays ever again. Betting with SportsBetting means betting with freedom.
Live Wagering at SportsBetting.ag
The live wagering feature on SportsBetting is intuitive, fun, and profitable. Typically, the sports betting site will feature a number of live betting events for active players to bet on. This may be a baseball game, tennis match, or some other event.
With live wagering, not only will members have access to a gameline that updates in real time, but a constantly refreshing set of propositions that refreshed according to what is happening in the game in real time. The sleek SportsBetting interface makes live wagering intuitive, and it's a good thing, because once you log in, you'll be having such a great time that the bets will be flying off your fingers!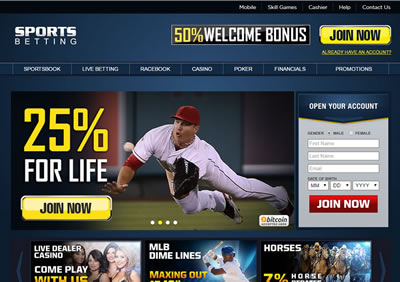 Depositing Money Into SportsBetting.ag - How to Make Your Deposit?
SportsBetting makes it incredibly easy for players to place deposits. You must do this at least once before you can bet, but deposit methods will be available to you at any time. It is important to note that there are deposit limits based on the method you select as well as delays due to processing. Keep these factors in mind before choosing a deposit method, and consult with the cashier page on SportsBetting for more information.
Deposit Methods Accepted By SportsBetting.ag
The easiest way to deposit on SportsBetting is to use a major credit card like Visa, Mastercard or Discover. The sportsbook may ask you to go through a quick verification process for your own security before they accept credit card deposits from your account.
In addition, users are more than able to use alternative payment methods. These include using services such as Western Union and MoneyGram however other forms of electronic payment are readily accepted, like various eWallets or even a check through the mail. Users are encouraged to always read the fine print before making a deposit so you fully understand limits, charges, and other information.
SportsBetting.ag Payouts - Some Of The Fastest Sportsbook Payouts
SportsBetting is known for its player-friendly payout methods. Fortunately, there are a lot of options to choose from.
Payout Methods
Payouts are typically processed within 24 hours on SportsBetting. In addition, players should make sure they are withdrawing a sizeable amount of money to avoid fees and meet minimum and maximum payout requirements.
Here are a few payout systems you can use with SportsBetting:
Checks - Usually 3-7 Days if you opt to pay the $40 or so for the expedited shipping
Wire Transfer - 3-14 Days
Money Orders - 3-14 Days depending on shipping method
Bank Wire Transfer - 3-7 Days
Even with all of these options, the most popular method is usually to simply receive your payouts in the form of a check. SportsBetting offers several different means
All of the methods listed above are approved for USA players and most carry little to no fees when users decide to cash out their winnings. The methods that do have higher fees are typically the methods which allow for faster payments. How much would you be willing to pay to have your money the same day?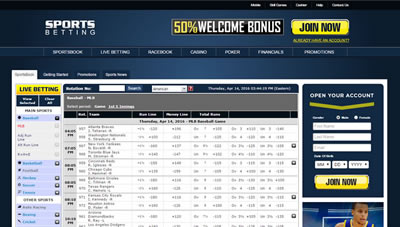 SportsBetting.ag Sportsbook Bonuses & Promotions - Varies From Time To Time

SportsBetting also a wide variety of bonuses and promotions. The first, and probably most famous is the initial deposit bonus of 25% of the initial deposit all the way up to $1000 as long as you use the promo code "INITIAL25" when making the first deposit.
The best part of choosing to do business with SportsBetting is that this is not a mere signup bonus – loyal members of this betting community can receive this bonus for life. Just remember to enter the code "FORLIFE" with every subsequent deposit, and you'll be racking up bonus money every time you use the site.
SportsBetting also offers fantastic rebate deals for trying out their mobile betting or live betting services. Check with the promotion page for details, but a new player can earn up to $50 in free play for trying out the mobile betting app and $25 for trying out live betting.
A lot of these bonuses are for "free play," not cash. You are able to use them, but are only allowed to withdraw them once you bet a certain amount of real money. Read on for more info.
Redeeming SportsBetting.ag Bonuses
When you are ready to redeem your bonuses, all you have to do is go the cashier in your account to see how much of a bonus you have earned. As mentioned, free play money takes time to accrue based on how much you bet.
Overall Thoughts of SportsBetting.ag Sportsbook - One Of The Best USA Sportsbooks!!!
While doing our SportsBetting.ag review we realized a couple of things. First of all, SportsBetting is one of the finest online sportsbooks that accept USA players. It has all the essentials you need, too, such as live betting, easy-to-read betting lines, and much, much more. Unlike other betting sites, SportsBetting is best known for its reputable and reliable betting platform, customer service, and sleek website.
When you are ready to start making big bucks betting sports, all you have to do is create an account on www.SportsBetting, deposit funds, redeem bonuses, and visit the sportsbook page. From there, it's up to you to pick the props and lines you want to bet on.
Reviews Of Other USA Online Sportsbooks