Kentucky Derby 2018: Bet While Drinking A $1,000 Mint Julep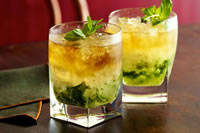 Few duos are as iconic as the Kentucky Derby and the Mint Julep. Each year, there are close to 140,000 mint juleps served throughout Derby Weekend at Churchill Downs. While the majority of these will be $11, a select few patrons will be drinking from $1,000 mint julep cups.
Thirteen years ago, Woodford Reserve started the $1,000 Mint Julep Cup program which works to raise money for a specified charity. This year's proceeds will go the Jennifer Lawrence Arts Fund that improves accessibility to the arts for children in Greater Louisville.
The cups for the 2018 Kentucky Derby have been designed by From The Vault, a jeweler that is local to Kentucky. The silver "Bluegrass" cup has gold accents featuring a Thoroughbred, jockey, rose, and bottle of Woodford Reserve. There is also a gold-plated version of the cup (the "Commonwealth") which sells for $2,500.
Now because nothing goes better together than Bourbon and betting, we can give you the rundown on both. Even if you won't be at Churchill Downs sipping on a $1,000 mint julep, you can join in on the festivities by creating your own cocktails and placing your bets at an online racebook. Woodford Reserve has shared the recipes for the cocktails so that you can make your own $1,000 Mint Julep at home.
Woodford Reserve $1,000 Mint Julep Recipe
2 oz. Woodford Reserve Distiller's Select Bourbon
1 tsp. Sorghum Simple Syrup from Woodford County, Kentucky
2 Kentucky Colonel Mint Leaves
Rub one of the mint leaves inside of your cup for flavor. Add the Woodford Reserve and simple syrup, then fill your cup with limestone-filtered crushed ice. Stir to blend.
Woodford Spire Recipe
1.5 oz. Woodford Reserve Distiller's Select Bourbon
2 oz. Lemonade
1 oz. Cranberry Juice
Lemon Twist
The Woodford Spire is a fun and refreshing recipe that will also be served at Churchill Downs. Easy to make, just pour the first three ingredients over ice and add a lemon twist to the top.
Kentucky Derby Betting Odds
With your drink in hand, you can visit any online racebook and place bets on the Kentucky Derby. It's not too late, as horse betting sites accept bets up until post time. The post time for the 2018 Kentucky Derby is 6:34 PM ET, with the race set to start at 6:46 PM ET. The 144th Run for the Roses will be broadcast on NBC.
Here are the latest betting odds for the 2018 Kentucky Derby, courtesy of Bovada Racebook:
| | | |
| --- | --- | --- |
| Post | Horse | Odds |
| 1 | Firenze Fire | 50/1 |
| 2 | Free Drop Billy | 30/1 |
| 3 | Promises Fulfilled | 30/1 |
| 4 | Flameaway | 30/1 |
| 5 | Audible | 8/1 |
| 6 | Good Magic | 12/1 |
| 7 | Justify | 3/1 |
| 8 | Lone Sailor | 50/1 |
| 9 | Hofburg | 20/1 |
| 10 | My Boy Jack | 30/1 |
| 11 | Bolt d'Oro | 8/1 |
| 12 | Enticed | 30/1 |
| 13 | Bravazo | 50/1 |
| 14 | Mendelssohn | 5/1 |
| 15 | Instilled Regard | 50/1 |
| 16 | Magnum Moon | 6/1 |
| 17 | Solomini | 30/1 |
| 18 | Vino Rosso | 12/1 |
| 19 | Noble Indy | 30/1 |
| 20 | Combatant | 50/1 |
Top Sportsbooks for Betting in the USA