New Jersey KOs PASPA In 25th Round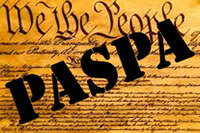 After knocking out the vile heel PASPA in the 25th Round with a brutal gut-shot to the constitutionals (just kidding, the fight went the distance, and the Supreme Courtside judges saw it 7-2 for NJ), New Jersey has emerged victorious in what will be historically regarded as one of the most important economic breakthroughs in America history.
When the Professional and Amateur Sports Protection Act was passed in 1992, the initial concept was to grant New Jersey an eastern US monopoly on sports betting to mirror Nevada's western US monopoly on the activity. In fact, it was New Jersey senator Bill Bradley who proffered the law in the first place. Somehow, though, the early '90s NJ legislature let their grace period expire without establishing a sports betting mandate of their own, and they'd been fighting to overturn PASPA ever since.
In 2016, then-governor Chris Christie – a thentofore do-nothing lump of an ineffectual buffoon – made the boldest and best move of his career, signing a bill into law that dismissed the federal PASPA mandates and instituted sports betting in the state. The intent was to push the issue of PASPA's constitutionality to the Supreme Court, and Christie was victorious in this gambit.
In 2017, the SCOTUS accepted the case, and just yesterday – May 14, 2018 – the court vehemently overturned the law as patently unconstitutional. The two dissenting judges, Sonia Sotomayor and Ruther Bader-Ginsberg, both lean left, albeit other left-leaning judges voted in support of the overturn. This is important, as – if you go on a state-by-state basis – the legislative support for legalized sports betting is surprisingly bipartisan. That bodes well for other states following in New Jersey's footsteps as the run-up to fully-fledged legal sports betting across America is now officially underway.
For New Jersey, this is perhaps the region's most significant achievement since it collided with Africa some 180 million years ago, giving rise to the Appalachian Mountains. And those mountains make for an apt analogy here, as a veritable mountain of money is now headed NJ's way. If you've been living around Atlantic City's slow decline into irrelevance and disrepair, get ready for a sort of urban renaissance in the area, as hundreds of millions of new dollars come pouring in every year.
In fact, the windfall starts almost immediately, as racino Monmouth Park – The Shore's Greatest Stretch – is slated to be the first outlet to offer a comprehensive sportsbook to NJ residents and visitors, promising action as soon as Monday, May 28. BestUSASportsbooks.com couldn't think of a better way to memorialize the eradication of PASPA than to place some sports bets in NJ on Memorial Day?
Top Sportsbooks for Betting in the USA