Chris Long Says He Will Skip White House Visit If Eagles Win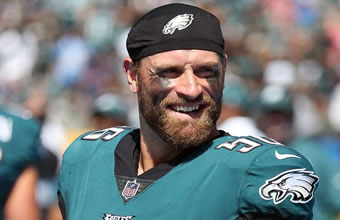 Philadelphia defensive end Chris Long told reporters Monday evening that he will not be joining his team mates in the customary post-victory visit to the White House if the Eagles win Super Bowl 52.
Long, formerly a defensive end for the New England Patriots, similarly declined to make a trip to 1600 Pennsylvania Ave. when the Pats defeated the Atlanta Falcons in 2017's Super Bowl 51. His reasoning for skipping possibly two of the traditional White House visits afforded to winners of the so-called Big Game comes down to Long's rejection of Donald Trump's policies as the president of the United States and those of his administration. Long has gone on the record in the past as saying that he would skip any such visits for the sake of his son, who he wouldn't want to ask him why he went "when [he] knew the right thing was to not go" to the White House.
True to his word, Long put his money behind his political beliefs by donating all 16 of his game checks to causes he supported, which includes six checks checks' worth in scholarships for low-income students in his hometown of Charlottesville, Virginia. He donated the final 10 games' pay toward supporting "educational equality" initiatives through his eponymous Chris Long Foundation's Pledge 10 for Tomorrow campaign.
In spite of his very public stance on this issue, Long – who is white but has intimated interviews that President Trump is a racist or has emboldened racists whites with dog-whistling – has been equally adamant in his insistence that his decision to not attend a White House visit is not a political move.
"Everybody is trying to turn this political," Long told CSNPhilly.com. "This isn't a political issue. This is (about) right or wrong. I believe you're on one side or the other."
Though Long's disapproval for the president goes back at least as far as the 2016 election, he took an even harder line against Trump during the summer of 2017, when various European identitarian and Southern heritage organizations staged a pan-right wing political rally over the removal of Confederate monuments in his hometown. The so called "Unite The Right" protest ended in violence after police barricades proved insufficient to keep leftist counter protestors and rally-goers from mingling, eventually leading to the death by heart attack of a counter-protestor. Long said Trump didn't do enough to decry the violence and was therefore - implicitly – complicit at worst or negligent at best.
"For me, being from Charlottesville, no one wants to see you sit idly by and watch that stuff happen and not say anything," he told reporters. "And I wish there was more categorical denial from some very important people in this country who had the opportunity to strike it down but didn't."
Still, BestUSASportsbooks.com knows there's no definitive or conclusive evidence that Philadelphia will win the Super Bowl, even if that's the direction sports bettors across the country are headed as the moneyline odds on the game continue to narrow. As it stands, New England has straight up odds of -175 compared to the +155 odds on the Eagles available at legal offshore sportsbook site Bovada.lv. But the possibility remains that Long could become the first player in NFL history to decline to visit the White House in consecutive years and while playing for different teams.
Thus far we haven't seen any special prop bet on that eventuality, but we wouldn't count out a props-heavy online bookie like BetDSI coming up with one in the next few days as this story garners more and more media attention.
Top Sportsbooks for Betting in the USA
USA Sportsbook Guide
Sportsbook Reviews